April 13th, 20th & 21st 2018 | 9:00 a.m. – 3:00 p.m.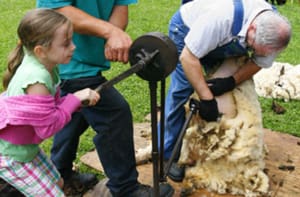 In pioneer Appalachia, farmers sheared their sheep each spring for wool to spin into yarn or fill quilts. The Museum of Appalachia, a Smithsonian Affiliate Museum, will renew this annual ritual each Spring, trimming the winter's growth of heavy wool from its flock of sheep. The wooly animals are trimmed by an experienced sheep shearer–one who explains the process to onlookers and demonstrates the use of vintage hand-cranked shears, offering children the hands-on experience that will last a lifetime.
Spinning, weaving, stitching, and quilting demonstrators show how wool was used to make yarn, thread, fabric, and quilt batting in the days before ready-made clothing and superstores. Their demonstrations fulfill the Museum's mission to preserve the Appalachian culture, educating children on their ancestors' heritage. School groups, home-schooled students, and families are welcome.
The Museum is home to sheep, chickens, guineas, and peafowl. Donkeys, Scottish Highland cattle, and a variety of goats roam adjacent pastures. In springtime, children will be delighted to see young lambs, goats, and chicks.
For more information, please contact the museum at (865) 494-7680 or museum@museumofappalachia.org Tour groups, schools, and homeschool groups please call or email Beth Hall to schedule your visit. bethhall@museumofappalachia.org or 865-494-7680
The Museum is located 16 miles north of Knoxville, one mile east of I‐75, exit 122.