April 13th, 20th & 21st 2018 | 9:00 a.m. – 3:00 p.m.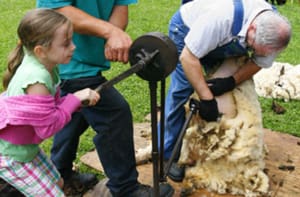 The Museum welcomes the warmth of spring by trimming the winter's heavy growth of wool from their flock of sheep. Students and families are invited to join the Museum in celebration of this pioneer tradition.
For the first time ever, we're offering this event on three different days, including on a Saturday.  Sheep Shearing Days will be held April 13th, 20th, and 21st, and activities will take place from 10:00 a.m. until 3:00 p.m.
Sheep Shearing Days will include demonstrations of shearing, carding, spinning, weaving, and other ways that pioneers turned fleece into woven goods. Guests will also enjoy sheep herding, Appalachian music, an animal meet & greet, storytelling, and several historic demonstrations, including soap carving, beekeeping, sawmilling, blacksmithing, weaving, pioneer gardening, and dulcimer lessons.
Admission includes a tour of the Museum mountain farm and village, which contains some three-dozen historic log structures, exhibit halls filled with thousands of Appalachian artifacts, gardens, and free-range farm animals.
School groups, home-schooled students, families, and individuals are all welcome to attend. Individuals and families can purchase discounted advance tickets by clicking one of the "buy tickets" buttons below.
Discounted Advance Ticket Rates (for individuals and families):
-Family (2 adults + kids) – $25
-Adult – $18
-Children (ages 5 to 17) – $6
-Members- FREE
Special student and group rates are available, and the event is free for Museum members. Groups of 20 or more, please call 865-494-7680 to make a reservation.